No matter the reason – whether it's old age, arthritis, healing after surgery, or a sports-related injury – hip pain sucks. Simple everyday activities like picking up a toddler or bending over to tie your shoes become much scarier when hip pain is involved. Unless you secure that hip in place using a brace or hip support, your condition is bound to get worse. In extreme cases, you might end up with a full hip replacement (or, like my own mother, two hip replacements!).
Getting an excellent brace is the perfect fix for reducing discomfort and strain on your hip. Not only do braces provide added physical support, but they also reduce the risk of hip displacement and hip dislocation. That being said, there are so many different options out there that choosing the right one can be a struggle. At one extreme, you've got bulky, heavy duty braces for major post-op surgery healing. At the other extreme, you'll find lighter/more flexible sports braces that permit a full range of motion. And there are dozens more braces that sit somewhere in between.
Our policy at BestHealthGear is to do most of the research for you. We've carefully reviewed all the best options out there on the market today, rating each one for durability, versatility, how effective they are, and more. No matter what kind of hip pain you or your loved ones are dealing with, we've got the right option for you below.
Major Types of Hip Support
Sports Brace/Support
These are designed to assist you during sports or at the gym. This type of brace is usually lightweight and is easy to wear under your clothes. Sports supports allow free movement and ensure stability in the hip and groin. They are also designed with breathable material that has enough ventilation to wick away sweat. If you have serious hip injuries like dislocation, avoid this type of brace and go to the hospital.
Post-Op Braces
These are heavy-duty braces which are designed to stabilize the hip after a major operation. Usually, after hip surgery, the patient may be too weak to move their limbs and joints without support. These braces come in handy for post-op recovery. They are also useful for hip dislocation or hip abduction cases and are always worn over clothes.
This type of support is stable and highly restrictive of motion, due to the fact that these braces aid recovery from major injuries. If you are wearing a post-op brace, you may have trouble getting around during the day.
Support Braces
This is the most common type of hip support available in the market. Support belts like the one pictured here are great for minor hip pain and light support. They cannot be used for heavy-duty activities or sports. If you have a slight hip pain that is making it difficult for you to walk, your doctor may recommend this type of hip support for you. They are lightweight and discreet.
Pregnancy Support
Pregnancy puts pregnant women through a lot of strain, especially in their hip region. Pregnancy supports/wraps address this issue. There are many kinds of maternity hip belts on the market, designed to be worn along a woman's baby bump.
Now that we have explored the types of hip braces, let's delve into a more specific topic – the best hip braces from each category above.
Hip Support Braces – Our 5 Favorites
NatraCure (Hot or Cold) Hip Pain Relief Wrap
If you want to place ice on a swollen hip or apply some heat to a sore, this brace from NatraCure is your best bet. Designed to ease arthritis and post-surgery injuries, with this support brace, there are pockets for its ice packs or its microwaveable heat pack. It also features a broad stretch band which compresses the injured hip area, relieves you of pain and reduces the swelling. It helps with loosening up your stiff hips and the reduction of swelling and pain in your injured hip. For anyone who has arthritis, this support brace can deliver relief to their sore hips. You can wear it on either hip as it is not designed for a specific side and it comes in sizes 20 to 40 inches for Small/Medium fits and 40 to 54 inches for large and extra-large fits.
ChinFun Hip Stabilizer (unisex)
It is lightweight, discreet and highly suitable for those with minor hip injuries but need something to keep them stable. It is comfortable to wear under your clothes, and no one will even know that you have a form of support underneath your clothes. It is made from 10 percent Polyester, 20 percent Nylon and 70 percent Neoprene. It is breathable and comes with a mesh to allow sweat and other moisture evaporate easily to avoid causing any dampness while wearing it.
A durable Velcro strap is included to hold the brace together to keep it tight and secure as well as achieve the right level of compression suitable for your injury. It can fix problems like hip instability, hip pain, and stiff arthritic hips. It is also useful in treating hip flexor injuries as well as helping with bursitis recovery. So, this hip support brace is quite effective for any minor hip injury you can think of.
Sacroiliac Hip Support Belt
With a hip support belt, you can give your hip some support with something breathable and lightweight. A hip support belt is made from breathable fabric with a simple design and discreet enough to go under your clothes. Its tapered design also ensures that pressure is evenly distributed around the waist and the SI joint gets the right level of support it needs. If necessary, you can wear a hip support belt for long periods. It also features a dual hook design and anti0slip buckle with which you can adjust the belt to fit your body size and stay in place.
A hip support belt is useful for support and pain relief for some hip issues like back spasms, sciatic pain that extends into the leg, lower back pain and pelvic pain. It comes in two sizes – S/M and M/L.
BraceAbility Trochanter Hip Support Belt For Women
You may not know how much a hip belt for women can do in providing support to relieve lower-back pain and hip pain.  Sometimes, the little things have the most profound impact. The hip belt for women adds pressure and support to the pelvis while keeping the joints in the lower back stable. It also supports the trochanter region of the body which addresses the primary cause of joint pain or a lumbosacral instability. For women with these conditions, a hip belt may be all that they need.
It features a warm and soft durable flannel lining, and it has elastic side pulls to make the belt fit snuggly and comfortable around the waist. It is thin and light enough to wear under your clothes, and its adjustable straps help make sure it fits just right around your body. The hip belt for women is generally useful for fixing problems like facet syndrome or Sacroiliitis (SI joint pain) and hip pain.
IT Band Strap by Vive – Support for ITB Syndrome, Knee Pain, Hip and Thigh
Looking at this band alone does not do it much justice, but it has its effects on various symptoms like hip pain and no matter what the condition of your hip is, wearing this band can make walking natural and convenient for you again. It will reduce the pressure and strain on your knees, give the thighs more support and in the process, help fix stiff hips, heal sores and relieve the pain and swelling caused by ITBS. The band wrap provides support to the iliotibial bands and keeps them stable. It also comes with a compression pad which serves a cushion to relax the vibrations from running and walking.
It is also breathable and allows moisture evaporate easily so that you are not left sweaty and moist down below. It can also be used by both men and women as long as what they are looking for is something light to support their hip pain, thigh and knee.
Sports Braces
Bodymate Compression Hip Brace
This hip brace is made from breathable neoprene compounds which allow you to remain comfortable and cool through your sports activities. You can wear it over any of your legs, and it has latching straps that make it fit around the body. A strong Velcro is also used to hold it in place. For injuries like a hamstring, sciatica and hip injuries, the Bodymate Compression Hip Brace compresses your hips to increase blood flow which helps speed up healing, prevents edema and relieves the pain you are feeling.
It is also a very discreet hip brace as it can be worn under your gym clothes and no one will have any idea that you are wearing a hip support brace.
Jet Mood Hip Support Brace
With this hip support brace, you will forever say goodbye to your hip and groin woes. It helps recover on time from a hamstring pull, groin strain, groin pull, hip flexor injury, hip bursitis, sciatic nerve pain, labral tear and a whole lot of other injuries that affect the thighs, hips or groin. It features a compression wrap that goes around the hip which helps keep you stable during sports activities. It also helps reduce the likelihood of re-injuring yourself and increases the flow of blood to the sight of the injury which enables you to recover on time and relieves your pain.
The Jet Mood Hip Support Brace offers excellent value for money spent as you get two Planta Fasciitis arch support, one E-book about muscle healing and one carry bag where you can keep the brace. While, most times, freebies included in products do not usually have much value, these do. Therefore, if you are after a great bargain that comes with other things you may not be paying for, this hip support brace is the best for you.
MOOND Groin and Hip Support
This hip brace will offer you all the support you need if you have a hamstring injury, sciatic nerve pain, arthritis or even a basic hip injury. It delivers soothing compression within minutes of wearing it over your hip, and the groin wrap keeps you stable when walking. It is also made of therapeutic breathable neoprene which helps keep your muscles warm through the healing period. It is well-suited for waists with a size of 45 inches and thighs of 25 inches. It is also discreet, and you can cover it with clothes.
Zenkeyz Groin support and Hip Brace for Men and Women
For a swollen hip or pulled groin, this hip support brace and groin wrap will get you back on your feet without support in no time. It comes with a compression strap which offers maximum support to a pulled muscle, sciatic nerve pain, strains, hip tendonitis, and hip joint pain. Its straps are much larger which gives you a more extensive contact and increased compression on the injury area. It comes in only a single size and should fit almost anybody. It is unisex and can be used by both men and women.
It also comes with some freebies like the three kinesiology tape strips, one E-book and one bag to carry it in. If you are on a shoe-string budget, you can opt for this hip support brace.
The Best Post-Op Braces
Bledsoe Philippon Post-Op Hip Brace
This post-op hip brace was developed and designed by Bledsoe and Dr. Marc Philippon, the Medical Director of Hip Disorders/Sports Medicine at the University of Pittsburgh. This is an ideal brace for recovery after an operation as it helps keep every muscle and joints in their right places and reduces the additional strain that may occur during the healing process. It helps inhibit hip extension, flexion, and abduction. Also, depending on the instructions from the surgeon, this hip brace can also lock the hip into a specific position.
The Bledsoe Philippon Post-Op Hip Brace is highly suitable for patients who just had arthroscopic hip repairs, total hip revisions or any other hip joint repair or surgery. It is made from aluminum shells, and it is quite big. But you will get the hang of it within minutes, and the inclusion of the thick breathable polyurethane foam padding makes it convenient to wear despite the large aluminum shells it is made from. It also has adjustable straps that hold everything stable, tight, in place and compressed.
The best thing about this hip brace is that there are 12 variants of it and they come in different sizes for both the right and left hips. It is also available for children, and since there are different sizes, patients of any age will find one that fits them.
Orthokong Hip Support Brace
This bulky and formidable hip brace is one that we love. It looks every bit like it is capable of doing the job perfectly – of protecting your hips and providing the needed support. It is suitable for adult patients who have suffered various hip problems like hip abduction, hip dislocation, soft tissue damage, etc. as well as for those recovering from hip surgery or hip replacement. Even though it looks bulky and complex, you will be surprised at how easy using this hip support is. All of its components, from the straps to the connectors and hinges are adjustable so you will get your perfect fit despite the seemingly big size of the support. All of the components come together to achieve the stability that this hip brace offers and by the time you use it for a while, the healing hip will get fully healed. It is also one of the few post-op braces that can be used on both the left or right hip without any designation.
Shipping this hip brace takes a bit of time so if your surgery is scheduled already, take into account the time of delivery so you can get it on time.
Some Common Types of Hip Injuries
The hips are an active part of the body system and thus could be subject to pain or injuries sometimes. If you are experiencing some pain in your hips and have got no idea why the pain is there, the reason could be any of the various hip injuries. At this point, you will need one of our hip braces to help relieve your pain, provide additional support or help you get through your gym sessions.
Below are some of the most common hip injuries:
Hamstring Tear
You may not know it, but a Hamstring tear can lead to pain in the hip and an inability to move with that part of your body. A tear below the hamstring can cause pain in the lower leg and knees while a high-up hamstring tear could cause hip pain. Some hamstring problems are minor while some may require a trip to the doctor and even surgery in some cases.
Hip Bursitis
We all have bursitis in our joints, and it is a sac that contains fluid that lubricates the movement of the bones and muscles in the joints. The bursitis is responsible for making the joints friction-free. Sometimes, a bursitis inflammation results in excruciating pain in which the leg, hip, and any other joint area would be impossible or painful to move. Usually, resting the joints and placing some ice packs on it would fix your inflamed bursitis. Some anti-inflammatory medicines can also help with relieving the pain.
Labral Tear
The labrum is a cartilage ring located in the hip, and it is responsible for holding the femur bones in place. The labrum could get torn for different reasons ranging from an injury to the natural movement of the hip or arthritis. The symptoms of a torn labrum do not also show up early enough until the damage has become severe. Therefore, once you notice any persistent pain in your hip or groin, seek medical treatment immediately so you can carry out intensive tests. You do not want to deal with pains in your hip for an extended period.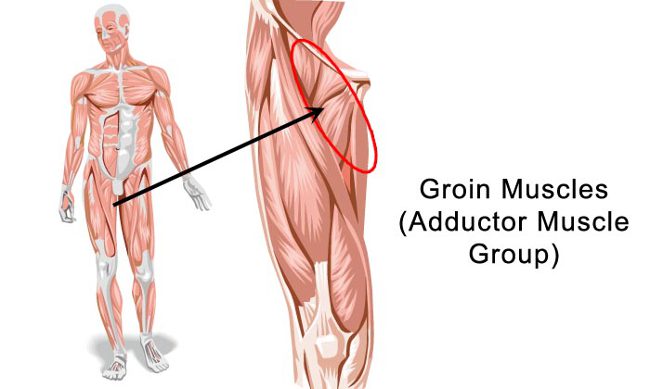 Groin tear or Pulled Groin
This happens when you damage, tear or strain your hip adductors, that is, the muscles that pull the legs together. These muscles hold the hip to the thigh bones and help keep the joint stable. Groin tear or pulled groin could be a result of a sudden change of direction, overstraining the muscles, hyperextending the muscles or inadequate warming up of the muscles. Muscle tear can cause hip pain, aches, and swelling. In most cases, applying ice and raising the hip might solve the problem but in more severe cases, you may need to see a doctor.
How to tell if you strained your hip
When you tear or stretch a tendon or muscle, it is called a strain. If it happens to the muscle, some people may call it a pulled muscle. You may not realize this, but your groin has muscles too. Your legs are brought together by the groin muscles. If you experience groin strain, then it means that you injured one or two particular muscles in the groin. This could be either the adductor Magnus or sartorius. The former is a big muscle which is found throughout the inner thigh region and the latter is a thin muscle which goes from the outer hip, over the thigh, and toward the inner knee.
How does a hip strain happen?
Most people strain their groin when they're either jumping or running. Sometimes it happens if they're forcibly cut or pushed off.
Symptoms of hip strain
Pain will be felt in the groin area and/or along the inner thigh area. When your legs are brought together, you will feel pain. When your knees are lifted up in the air, you will feel pain.
Treatments for an injured hip
If you've been injured and you're trying to recover, you can do the following:
Apply a gel pack or ice pack to the affected area for about 20 minutes. Repeat this every 3 ½ hours or so.
Try an ice massage on the affected area. This requires you to fill a Styrofoam cup with water and then freeze it. Reveal the ice by peeling away the top portion of the cup. Hold the cup from the bottom and put the ice on the affected area. Rub it around on there for about 10 minutes. Repeat this regularly throughout the day or whenever you feel pain.
Take some pain reliever or anti-inflammatory medicine like ibuprofen. Consult with your doctor for suggestions on what to take. Some nonsteroidal anti-inflammatory medications could cause your stomach to bleed or worse. As you get older, the chances of this happening increase. Follow the directions on the label when consuming any of these medications. To play it safe, discontinue use after 10 days or sooner if you feel better.
Wear a thigh wrap or another supportive bandage. You can also tape up your groin or thigh too.
Ask your doctor which exercises can assist with recovery and then do them.
Once you've recovered from an acute injury, apply up to 15 minutes of moist heat before your exercises, stretches, and/or warm-ups. If you have swelling, then avoid using heat.
Try a different physical activity which won't irritate the existing condition. For example, instead of running, try swimming instead.
Summing It Up
Now that we have checked out the different types of hip injuries we have and the best support braces in the market, we hope that you are better informed about the kind of braces to look out for in the market and what the different hip pains mean. Do not ignore the pain in your hip. See a doctor as soon as you can.